Practice Areas
Injury Lawyer Helping Victims in Maryville and Beyond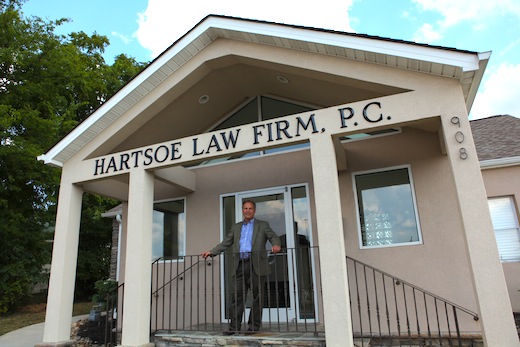 The Hartsoe Law Firm provides tenacious legal representation for a broad range of personal injury lawsuits, including motor vehicle collisions, slip and falls, medical malpractice, nursing home negligence, product liability, and wrongful death. Maryville injury attorney Mark C. Hartsoe has over 35 years of experience advocating for accident victims. Contact us without delay to discuss your options with a car accident lawyer or seek assistance with another personal injury claim.
Car Accidents and Other Motor Vehicle Collisions
Most motor vehicle collisions, including accidents involving cars, bicycles, motorcycles, or trucks, are the result of driver negligence. To establish negligence in Tennessee, you will need to prove by a preponderance of the evidence that the defendant owed you a duty of care, which he or she breached, and that the breach caused injuries and damages.
Some breaches of the duty of care in this context may include texting while driving, drunk driving, failing to yield, or fatigued driving. You will need to draw a causal link between the breach and the injuries that you suffered, showing that the car accident was a direct and reasonably foreseeable result of the defendant's carelessness. In some cases, the defendant may argue that your own negligence was partially or fully to blame for the crash. However, as long as you were not 50 percent or more responsible, you still may recover a reduced compensation award. Car accident attorney Mark Hartsoe can advocate vigorously for your right to receive the full amount of compensation that is appropriate in the circumstances.
Premises Liability
A property owner's failure to make repairs or provide warnings about dangerous conditions on their property can result in a serious accident. In many cases, they may be liable for the resulting harm to visitors. For example, a store that fails to clean up liquid spilled by an employee may be liable to a customer who falls down and breaks his leg.
It is important to show that the property owner had actual or constructive notice of the dangerous condition. The longer that a particular condition exists, the more likely it is that an owner should have known about the dangerous condition and either repaired it or put up a warning sign.
Medical Malpractice
If you suffer injuries due to a doctor or nurse's negligence, you have one year from the date you discovered the injury, but no more than three years after the actual date you suffered the injury, to bring a claim for medical malpractice. (There is an exception if a foreign object was left in your body during surgery or another procedure.) You may be able to recover compensation for many forms of damages in these situations, including medical bills, lost income, and non-economic harms like pain and suffering.
Nursing Home Negligence
In Tennessee, nursing home laws have been put in place to require administrators and staff to meet certain standards. For example, administrators must be certified in one of three ways before taking on an official role as an administrator. Moreover, resident abuse is prohibited. This is defined as the infliction of pain, injury, or mental anguish on a resident. For example, staff may not deny a resident any services that are necessary to maintain good health, such as food, water, or medical care. People employed by the facility are required to report suspected abuse if they have a reason to believe another employee is abusing a resident. A victim of abuse or the victim's family can sue for damages based on abuse or neglect.
Product Liability
The manufacturer, designer, and maker of a product may be held accountable if their product causes an injury or death. Generally, to prevail in a product liability lawsuit, the plaintiff must show that the product was defective and that the defect caused the injury or death. The product needs to have been in the same condition at the time of the victim's injury as it was when the manufacturer put it into the marketplace for sale.
Wrongful Death
Surviving family members faced with the untimely death of a loved one as a result of someone else's negligence or wrongful actions may be able to recover damages. In Tennessee, damages in a wrongful death case often include funeral and burial expenses, loss of earning capacity, lost wages that would have been earned in the future, loss of enjoyment, mental anguish suffered by the decedent before his or her death, the loss of love, society, and companionship, and the mental suffering of family members.
Consult an Experienced Maryville Attorney for Your Injury Claim
Mark C. Hartsoe is a knowledgeable Maryville injury lawyer who is dedicated to helping people who have been hurt due to the negligence or wrongful conduct of another person or entity. We represent people who need a premises liability attorney or representation in another type of personal injury claim throughout Knox, Blount, Anderson, Campbell, Claiborne, Cocke, Cumberland, Fentress, Grainger, Greene, Hamblen, Hamilton, and Jefferson Counties. Call us at 865-804-1011 or contact us via our online form to set up a free appointment.